Chongqing Icon (洪崖洞)
Access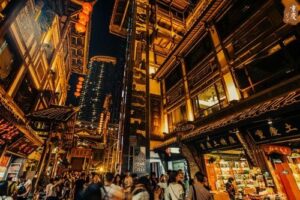 Hongyadong(洪崖洞) is located besides the Qiansimen (千厮門大橋) bridge in Yuzhong district (渝中区).
It takes about 7 mins by walk from the Exit 9 of the closest subway station is Xiaoshenxi(什字) station.
It takes 10 mins by walk from Jiafangbei (解放碑).
It's free to enter.
History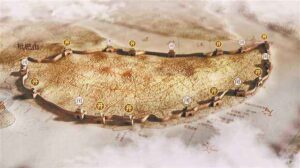 Hongyadong is also balled Hongyamen (洪崖门: 门 means gate) and the history goes back to B.C.314.
At tha time, Zhangyi (张仪) who was born in Wei (魏) and a chancellor of Qin came to Chongqing and constructed the Jiangzhou Castle (江州诚) near Chaotianmen (朝天门) in Yuzhong district.
In 226 in Three Kingdoms era, the second fortification was conducted.
In those times, population of Chongqing was not that large, so it was impossible to cut huge and heavy rocks at mountains and carry them to the city center, thus, the castle was mainly made of woods.
Due to the Chongqing's mountainous landscape with large rivers, Chongqing was a natural fortress.
However, in 1238 in South Song era, the Mongol Empire became the strongest nation in the region and started to go south to conquer southwest part of China.
Mongolian warriors were good at riding horses and shooting arrows, and also they had good tactics in battles fields.
In addition, they were known for their superior usage of gunpowder at wars so they were strong at attaching castles.
Therefore, the 3rd fortification of Jinagzhou Castle was completed in Chongqing by using rocks at that time.
The 4th fortification was made in 1371 in Ming era and 17 gates were constructed.
Among those 17 gates, 8 of them were closed all the days in order to defend the castle from enemies.
Hongyadong is one of those closed ones.
Redevelopment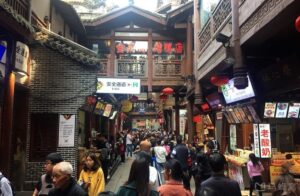 Since civil wars ended, the population of Chongqing has gradually increased and a lot of houses were built near Hongyadong.
In 2002, redevelopment of Hongyadong was started to preserve the historical site and original residents moved to other places.
Under Hongyadong, there is a big cave called Hongyandong (洪岩洞).
In addition, there is a legend that a hermit lives in the cave so the cave is also called Shenxiandong (神仙洞: Shen means god and Xian means hermit)
Hongyadong is elected as one of AAAA sightseeing spots of China and becomes must-visit sight for tourists in Chongqing.
In Hongyadong, visitors can see displays of people's life in ancient times and traditional souvenirs and local cuisines.
Also, tourists can enjoy Chongqing snacks while walking in the sight.
There is a free elevator to go up and down in Hngyadong so it's easy to walk around for everyone.
Seeing the whole sight takes about 1h to 90 mins without having meals at restaurant.
I recommend you to visit the place after 3pm to enjoy shopping local souvenirs and snacks, and have dinner at restaurant while enjoying sunset and night view.
Since this is the most popular sightseeing spot in Chongqing, you can somehow expect local shop clerks to speak simple English phrases.
Information
Opening Days: 7 days a week
Opening Hours: 24 hours (lighting up ends at 11pm and most of the shops close before 11pm)
Entrance Fee: Free
Estimated Sightseeing Time: 60mins to 90mins
---