Embassy Alley (山城巷)
Access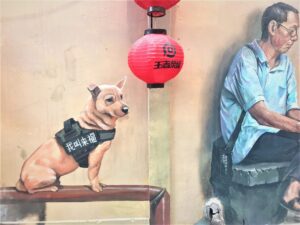 Shanchengxiang (山城巷) is located in Yuzhongqu (渝中区).
It takes about 8mins by walk from Exit 5 of (较场口) subway station.
In other way, you can walk from Qixinggan (七星崗) subway station and reach Shanchengxiang in 20mins
The nearest bus stop is Zhongxinglu (中兴路) and it takes 3mins by walk to Shanchengxiang.
A lot of buses stop at the bus stop, such as 301/ 302/ 306/ 308/ 313/ 315/ 321/ 322/ 346/ 351/ 361/ 429/ 440/ 810/ 898, so it's located in very convenient place.
History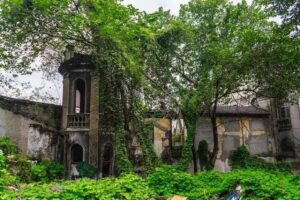 Shancheng (山城) means a mountain city and Xiang (巷) means alley in English.
Thus Shanchengxiang is a small village built in the hill.
The history of Shanchengxiang goes back to 1990.
A lot of embassies were constructed in Chongqing, the huge city in west part of China.
For instance, the British embassy is preserved at city center of Chongqing today.
In Shanchengxiang, a French embassy was built at that time and a couple of French diplomats and their families lived there.
In addition, they built a Christ church (仁爱堂)on top of the hill in Shanchengxiang.
Those western buildings and foreigners were rare in Chongqing at that time so many local people visited Shanchengxiang to see them.
Shanchengxiang's hilly landscape was suitable for taking a walk and people could enjoy the view of Yangtzte river (長江) from the top of the hill, so Shanchengxiang became popular relaxing place for local people in Chongqing.
However, Chongqing was bombed several times by Japanese enemies between 1939 and 1941 during the China-Japan war.
Then the church on the hill was destroyed by bombs.
After the wars, many western countries closed their embassies in China and went back home.
The French embassy in Chongqing was closed and the short history ended.
Today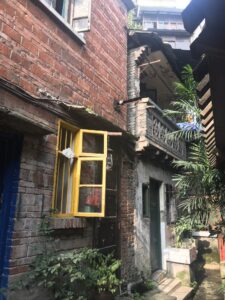 After wards, local people came to live in Shanchengxiang.
Shanchengxiang was called Sky Lantern Alley (天灯巷) or Sky Lantern Town (天灯街) in the past and was renamed to Shanchengxiang in 1972.
The word, Shancheng (山城) is often used to refer to Chongqing.
Shanchengxiang went through the history of western colonization and wars over the years so Shanchengxiang fairly represents Chongqing's history.
Shanchengxiang has been renovated by the local government as a sightseeing spot and residents open some souvenirs shops and small restaurants.
Also, Shanchengxiang is still a popular place for taking a walk while enjoying the views.
You can see local people's life in the resident areas too.
There is a famous police dog in Shanchengxiang.
His name is Laifu (来福) meaning "good luck comes"
He likes to be fed and stroked on his head by visitors while he is patrolling Shanchengxiang.
If you are lucky enough, you may be able to see him (usually patrolling from 11am to 2pm)!
It takes around 90mins by walking around Shanchengxiang.
I recommend you to visit there before lunch time when the temperature is not that high.
You can enjoy dandan mian (担々麺) as your snack.
Information
Opening Days: 7 days a week
Opening Hours: 24 hours (all the souvenirs shops and restaurants close before 11pm)
Entrance Fee: Free
Estimated Sightseeing Time: 90mins to 120mins
---