Spicy Crayfish (麻辣小龙虾)
Mala Crayfish (麻辣小龙虾)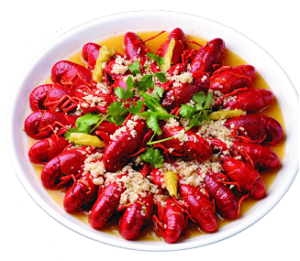 Mala Crawfish (麻辣小龙虾: Mala Xiaolongxia) or Spicy Crayfish is originated from Hunan province.
Long (龙) means dragon in Chinese, and it's also used to describe prawn because of their similar shapes.
Recently eating crayfish is booming in China and you can find specialized restaurants everywhere in the country.
It's quite rare to see one kind of dish/food becomes so popular over the huge county in such a short period of time.
This is mainly because of the eccentric fragrance and flavor of crayfish dishes (usually cooked with spicy sauce).
In addition, a lot of videos about Spicy crayfish has been uploaded to SNS, attracting people's attention and appetite.
The number of crayfish restaurants has been increasing in Chongqing nowadays.
What is Crayfish?
When it comes to crayfish, many people may imagine its dirty and smelly like mud.
It's true that crayfish can survive dirty water such as sewer.
The body is protected by hard shell and the scissors are powerful.
As such, crayfish can be ranked at higher level in every environment/ecosystem and survive.
Crayfish is famous for its strong appetite as well.
When get hungry, crayfish eats other crayfish.
Crayfish is originated from US and was brought to Japan in 1918.
In 1929, crayfish was imported from Japan to China.
The well-known smell of the crayfish comes from the dirty water and its diet.
Crayfish used for dishes in China is grown up in clean water.
This kind of crayfish has no strong smell and can grow up to 5 – 12 cm long.
The skin of baby crayfish is black and gets red as grow up.
The ratio of head to body is higher for crayfish compared to prawns.
It means that eatable meat is limited.
How to Cook
The popular cooking method for crayfish is to stir.
Especially, crayfish stirred with spicy Mala(麻辣) sauce is extremely popular in China today.
A typical recipe of the dish originated from Hunan uses fresh and clean crayfish, chili pepper, huajiao, green onion, ginger, coriander, garlic, star anise, cinnamon, soy sauce, brown sugar, salt and cooking alcohol.
First kill the crayfish and put it into cooking alcohol with ginger for a while.
Then stir the crayfish with above seasonings.
How to Eat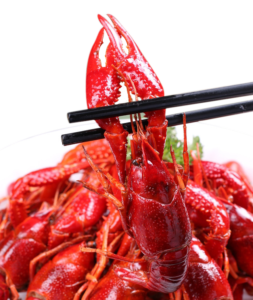 It's important to eat crayfish when it's still hot in order to enjoy its best taste.
However, the shell is very hard and hot, so your fingers may get burned if you touch it.
If you use your teethe to break the shell, your teeth will break (cautions!).
So there is a tip to eat crayfish.
Usually crayfish restaurants serve you polyvinyl gloves and tissues.
First, you wrap your fingers of one hand and put the glove on that hand.
Then get the crayfish with the hand while using chopsticks in the other hand to break the shell and get meat.
If you're unable to break the shell with one hand, you can put the tissues and gloves to both of your hand.
Some people remove the shells of all the crayfish first with both hands first, and remove the gloves and eat the meat by chopsticks slowly.
The drawback is the meat can be a bit cold when you start eating.
You can throw the shells into bucket under the table.
It's better to assume your fingers, mouth and cloth may get the sauce so please be careful what you wear.
Crayfish Master
Due to the recent booming of crayfish dishes, a new job was born, which is to remove the shells.
Crayfish masters stand besides your table, and remove the shells quickly and serve you the meat.
Thus, the guests do not have to make an effort and can just enjoy the taste.
Even though those masters use thick gloves to protect their fingers but they may get hurt and it's a tough job.
Therefore, the salary is high so a lot of young students do it as a well-paid part-time job.
Speciality
The taste of crayfish is richer than prawns.
Some people say the best part of crayfish is its brain which tastes creamy and rich.
The spice level of Spicy Crayfish is very high and strong spiciness and delicious taste hits your mouth and brain.
Even for local Chongqing people who get used to Hot Pot, Spicy Crayfish is very spicy.
If you try the Spicy Crayfish for the first time, I strongly recommend you to order it at least spicy (微辣: weila) or little spicy (小辣: xiaola).
You will be addicted to the Spicy crayfish once tried.
If you like beers, you must try the Spicy Crayfish and realize why your mom did not introduce this addictive dish to you before…
---