Public Transportation Guide
IC Card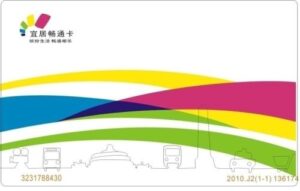 IC card 宜居畅通卡 is used in Chongqing.
You can use the card for subway, monorail, elevator, bus and cable car.
The IC card is available at information center in every subway station at 20RMB without passport/ID card.
You can purchase it at subway station in Jiangbei International Airport.
When you want to charge the card, you can go to ticket machines or information center at any subway station.
Note that no convenience store or kiosk have IC card unlike other countries.
Subway(CRT)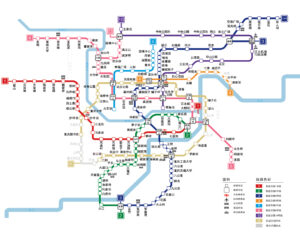 In Chongqing, subway line called CRT(Chongqing Rail Transit)is well developed.
It takes only about 45 mins from Jiangbei International Airport to city center (Please refer to this page for airport access)
Fee: Depends on the distance. The shortest distance is 2RMB and the longest is 7RMB.
You get 10% discount automatically from above fee by using the IC card.
How to use:Disposable One-way ticket is available at both ticket machines and information centers.
You can buy the IC card at 20RMB at Jiangbei International Airport and charge the amount you want.
Please be careful that no reimbursement is available.
Subway opening hours: Line 4: 7:30 – 20:30 / Other Lines: 6:30 – 22:30
・CRT website (In Chinese only): https://www.cqmetro.cn/search-way.html
You can see the subway map on the website and can choose the departure station from the drop down list of "起始站" and select your destination in "终点站" box, which will show you several routes, fees and expected transportation time.
Monorail(CRT)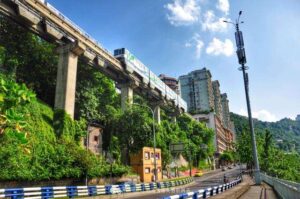 Chongqing is the only city in China that has monorail.
Monorail shares the same route map with subway and the Line 2 & Line 3 are monorail.
Trains goes underground in some lines and goes on the ground in Line 2 and 3.
In some area, trains go through inside of buildings, which is called 李子坝 designed by a Japanese construction company.
You can use monorail in the same way you use subway as mentioned above.
営業時間:6:30 – 22:30
Bus
Bus is also convenient for transferring within the city.
The fee is fixed at 2RMB and transfer is free up to one time.
When you take the bus, you put 2RMB to the box near door or tap your IC card.
Note that exchange is not available
No need to tap the IC card again when you go off.
At bus stop, you can find bus schedule and route.
Opening hours: 6:30 – 21:00(at city center some buses are available for 24h)
Taxi
The fee is based on distance.
If you drive for 20 mins with no traffic jam, it will cost around 30 – 35RMB.
All the taxi is equipped with taxi meter and private non-registered taxi is prohibited.
You can find white taxi or yellow cab easily.
Note that it costs 15% more after 11pm till early morning.
Cable Car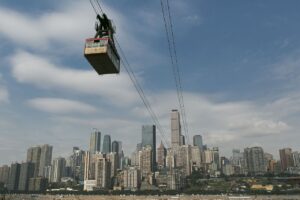 Chongqing is the only city in China that has cable car above river.
The cable car connects city center (Jiafangbei area) and Nanan (南岸) district in 15 mins.
One-way costs 20RMB without IC card.
It costs 9RMB by using IC card.
In addition to tourists, local people often use the cable car for transportation.
Opening hours: 6:30 – 21:45
Train
When you transfer to suburb area or neighboring provinces, train is a fast way.
You can buy train ticket at train station (not subway station) and you have to present your passport/ID card.
For trains, IC card cannot be used.
The price differs between different classes and tickets are only valid for 1 day.
Opening hours: 24h(Some stations open at 8am)
Train Station Official Website
・Train website (In Chinese only): https://www.12306.cn/index/
If you need a one-way ticket, choose 单程 at "开票" upper left side. If you want a return tickets, select 往返. Once you put your departure station and destination, you can search available trains'schedule and price. In order to purchase tickets online, you need Chinese identification card. I recommend you to check available trains on the website in advance and go to train station to buy the ticket smoothly.
---