Chongqing Grilled Fish (重庆烤鱼)
Chongqing Kaoyu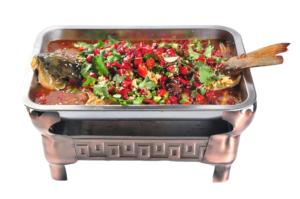 Chonging Kaoyu (重庆烤鱼) or Chongqing Grilled Fish is one of Wanzhou (万州: Located in Chongqing) traditional cuisines.
Freshwater fish is grilled in spicy soup with a lot of chili peppers.
The fragrance and display of the dish are brilliant, stimulating people's appetite.
The origin of Chongqing Kaoyu goes back to Qing (清) era.
There is a family famous for superior cooking skills, which has well-known chef, Ye Tianqi (叶天奇) as its ancestor.
Ye family believes that women are not talented when it comes to cooking.
Thus, the secret recipes and skills are only revealed to male chefs in Ye family.
Instead, wives and daughters are just in charge of housework and daily meals for Ye family and are not allowed to cook for customers at restaurant.
In every Chinese New Year, Ye family opens temporary restaurant in mountain in Chongqing and treat important guests.
Turning Point
However, in a Chinese New year day, male chefs in Ye family gets sick and is unable to prepare dishes to treat customers.
Thus, as a last resort, they ask a daughter to cook ordinary dishes she cooks for Ye family and treat guests.
Then, the lady cooks excellent meals and let all the customers satisfied.
This is because she never gives up learning cooking and observes the kitchen full of male chefs every day after she finishes housework.
Among what she cooks in the Chinese New Year celebration day, a meal that has boiled fish in spicy soup surprises male chefs and customers by its appearance, fragrance and flavor.
This meal is added to one of Ye family's secret recipes later on.
Since then
From that day, male chefs admires that women also have great talent in cooking so they are treated equally and are taught cooking skills and recipes.

In 1920, the lady gets married with a man from a Han (韓) family that is famous for cooking.
She works as a chef at local government.

Han family is well-known for its advanced skills of grill and BBQ.
The lady learns the skills and develops her grilled fish further, which is now called Chongqing Kaoyu.

From this story, I learn that the effort in rainy days will pay off in the future.

Perhaps on that special day, male chefs knew her effort so intentionally gave her a chance to treat important guests representation Ye family.
Recipe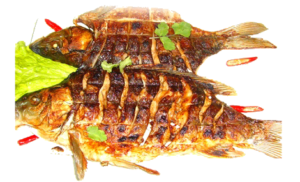 Chongqing is far from the sea, so freshwater (river) fish is usually used to make Chongqing Kaoyu.
The most common freshwater fish is Tilapia, mainly because it is less smelly than most of other freshwater fish and the size is large (easy to separate meat from bones)
First, cut and open the fish to remove its lever.
Then, season the fish with ginger, garlic, green onion, coriander, cumin, watercress and grill the fish with charcoal.
After grill the fish well, boil it with soup made of soy sauce, green onion, pickles, lemon, salt, chicken base, chili pepper and watercress.
The sour and spicy fragrance come into your nose and increase your appetite.
Once the fish is boiled enough, ready to eat!
The skin of fish is crispy thanks to charcoal and the meat soaks the sour and spicy soup, which makes your mouth full of happiness.….
Probably you cannot stop eating with no talking until you find out the fish is only left with bone.
By the time you finish the meal, you must sweat a lot due to the hot and sour soup.
In addition to fish, a couple of vegetables, such as lettuce, bean sprout, mushroom and sliced potatoes, is boiled.
Those vegetables soak the delicious fish soup well.
Popularity & Research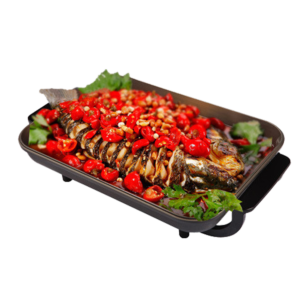 In Chongqing, there are many restaurants specializing Chongqing Kaoyu.
You can choose the type and size of fish and flavor and spiciness of soup base.
Chongqing Kaoyu is popular all over China and some researches have been conducted to figure out how it's so tasty.
According to some researchers, the key is the use of charcoal and way of grill.
In the Romance of Three Kingdoms, generls of Shu (蜀) loved Chongqing Kaoyu and named it as Zhuge Kaoyu (諸葛烤鱼) (Zhuge Liang: 諸葛亮 is a famous military strategist in Shu) .
When you come to Chongqing, please try Chongqing Kaoyu and perspire happily!
---